Black & White Video with Monophonic Sound ..(1979) ..2:31

with Paulette Sears
A public service presentation. The hidden menace of frequency modulation is displayed in the setting of an ordinary home. Exactly what is it? This crucial question is answered in plain English.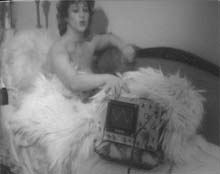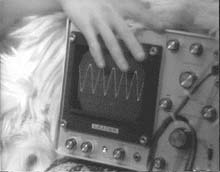 How do we get rid of it? A short demonstration shows a simple, two-step method, both ideal and foolproof. This timely presentation will help expose and arrest a growing threat to modern society.
Befitting the utmost seriousness of the topic, this video was produced in stark black-and-white.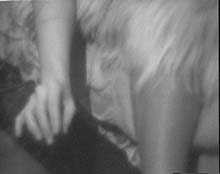 PRODUCTION NOTES
This work was recorded on a Sony B&W Portapak using half-inch open-reel tape. Electronic editing was not available so the entire program had to be recorded in one pass. During the videotaping, the background music (from an earlier electronic piece called Drive) was played back on audiotape and mixed with the spoken-word sound and live synthesizer sound. Seven takes were recorded on January 21, 1979. Later, a master tape with front and end titles was produced, which necessitated a generation-loss in the video. The editing-equipment quality was not high, so there was a noticeable degradation in the video and audio. In April 2008 the tape was restored and the piece was remastered using the camera-original elements.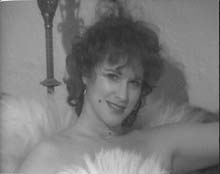 ---
---